One of Toronto's Premier Destinations for Facial Plastic Surgery
Located in the heart of downtown Toronto, just steps from the boutiques and restaurants of Yorkville, FACE Cosmetic Surgery is dedicated to providing surgical and non-surgical facial aesthetic solutions for both men and women.
Our practice is built on the premise that each patient deserves honest, expert counsel & exceptional, natural looking results. By focusing solely upon treatment of the face we are able to provide highly specialized care to each and every individual that walks through our doors.
Your face is without a doubt your most valuable asset. So when it comes to addressing facial aesthetic needs, you want an experienced specialist who will take the time to get it right. You want FACE Cosmetic Surgery.
Trust your face to the experts
Meet Dr. Jamil Asaria
Jamil Asaria MD, BSc, FRCSC
Founder & Director of FACE Cosmetic Surgery
Clinical Lecturer, Division of Facial Plastic & Reconstructive Surgery
Department of Otolaryngology — Head & Neck Surgery
University of Toronto
Toronto rhinoplasty specialist and renowned facial plastic surgeon, Dr. Jamil Asaria, has helped thousands of patients achieve the aesthetic appearance they have long desired. Distinguished by a spirited charm, a passion for his work and an uncommon attentiveness to the needs and desires of patients, Dr. Asaria has developed a name for himself as one of the best rhinoplasty surgeons Toronto lays claim to.
His work and expert commentary have been featured by mainstream media outlets, such as CBC Television, Global News, eTalk, The Calgary Herald and The Toronto Sun.
Learn more about Dr. Asaria
Dr. Ashlin Alexander, MD
Board-certified, dual-fellowship trained Facial Cosmetic Surgeon
Head & Neck Oncology/ Microvascular Reconstruction
University of Toronto
As a board-certified, dual-fellowship trained Facial Cosmetic Surgeon, Dr. Alexander has devoted his entire career to the specialized treatment of the hair, nose and face, and now brings the renown of New York City and the expertise of Australia back home to Toronto. Few surgeons in Canada have a comparable academic pedigree. Needless to say, Dr. Alexander is focused on the face.
Dr. Alexander is board certified by the Royal College of Physicians and Surgeons of Canada and is a member of the American and Canadian Academies of Facial Plastic and Reconstructive Surgery.
Learn more about Dr. Alexander
A Private Cosmetic Consultation
With Dr. Jamil Asaria
Regardless of what treatment or procedure you are interested in receiving, your first step will be a Private Cosmetic Consultation with Dr. Asaria. During this initial one-on-one session, Dr. Asaria will take the time to understand your concerns and learn what aspects of your face you most want to address. What makes a consultation with Dr. Asaria truly unique is that he starts by putting aside products and procedures and shifts the focus to you and your needs.
Often patients will come in requesting a specific treatment or facial filler that they have seen an advertisement for or heard about from a friend. Instead of blindly administering the requested product, Dr. Asaria interviews each of his patients in order to find out why they want that particular treatment or product and what they are hoping to achieve with it. More often than not the problem they are looking to solve is better addressed with a slightly different technique.
Schedule a Consult Now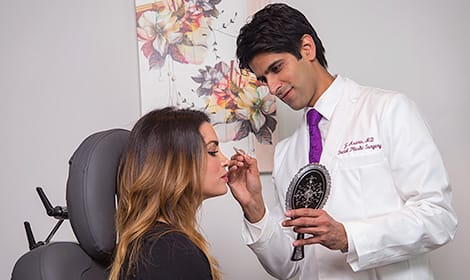 Here at FACE Cosmetic Surgery in Toronto, Canada, you will never find us selling or pushing the latest and greatest facial aesthetic product. Our top priority is helping our patients to get the results they are looking for, in a manner that looks truly genuine and natural. No matter what it is you are seeking to address, a private consultation with Dr. Asaria will ensure that your treatment is perfectly suited to you and your needs. Schedule your consultation with one of the best facial cosmetic surgeons in Toronto, Dr. Jamil Asaria today.
Rhinoplasty Procedures
As the central facial feature, the shape of one's nose has an enormous impact on the balance and harmony of the face. Rhinoplasty is without a doubt the most complex procedure in plastic surgery. Toronto Rhinoplasty Surgeon, Dr. Asaria believes in creating subtle refinements and contour changes while preserving ethnicity. More often than not, less is truly more. It is this approach that has earned him a reputation for providing some of the best rhinoplasty Toronto has to offer.
Facial Surgery Procedures
While injectables and other non-invasive products can help to reverse the early signs of aging, treating more advanced signs often requires surgical methods. Here at FACE Cosmetic Surgery Toronto we pride ourselves on our mastery of age-reversing facelift procedures as well as feature-enhancing procedures like dimple creation.
Non-Surgical Procedures
There are many non-surgical treatments available that can diminish wrinkles, add volume and enhance facial features. The key to superior results is using these tools in a soft and artistic manner. Most importantly they must be used in a manner that is truly convincing. Often the best cosmetic work is the work no one notices.